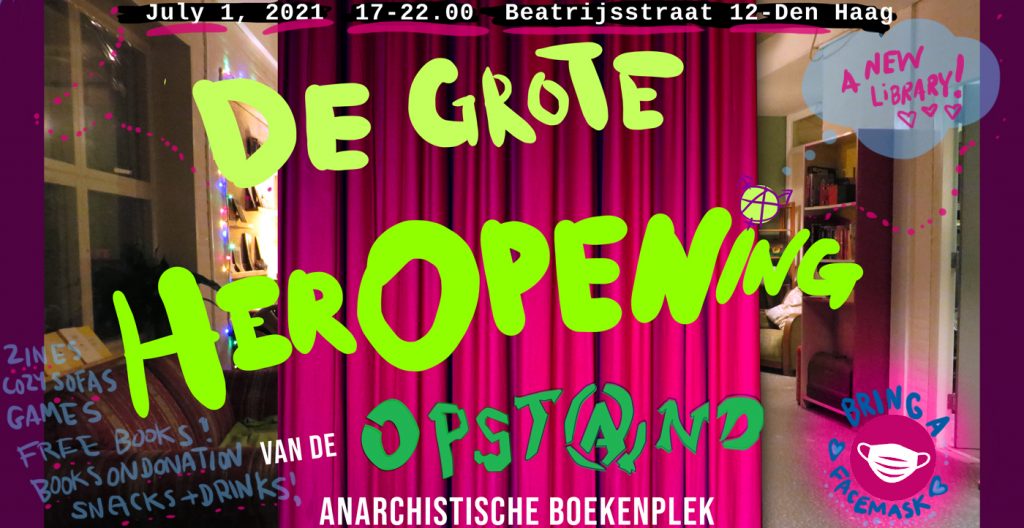 Anarchist Bookplace Opstand re-opens!
(scroll naar beneden voor nederlands)
After a period of renovations and restructuring the collective we are ready to reopen again! So that's why we want to invite you to a merry get-together.
Upcoming Thursday, 1st of July, from 17:00 to 22.00 at Opstand, Beatrijsstraat 12, Den Haag
There will be a lot of nice things happening:
– FREE BOOKS from the archive
– A selection of NEW BOOKS (see pictures, some interesting stuff)
– Snacks and drinks (alcoholic and non-alcoholic) and vegan COOKIES 🙂
– BOOK SWAP! wanna swap books with someone? amazing! Bring a book you want to swap, and we'll also bring some 🙂
Food and books will be offered on donation, which will help us pay the rent and organise more events in the near future!
Also, you will be able to borrow books from our newly created LIBRARY! You can check the inventory online (https://inventaire.io/inventory/Opstand_Library ) . The library is a work in progress, so there will be new books coming in once in a while 🙂 The conditions of borrowing are similar to other anarchist libraries, leave your contact details and a deposit, and you can borrow the book for a month.