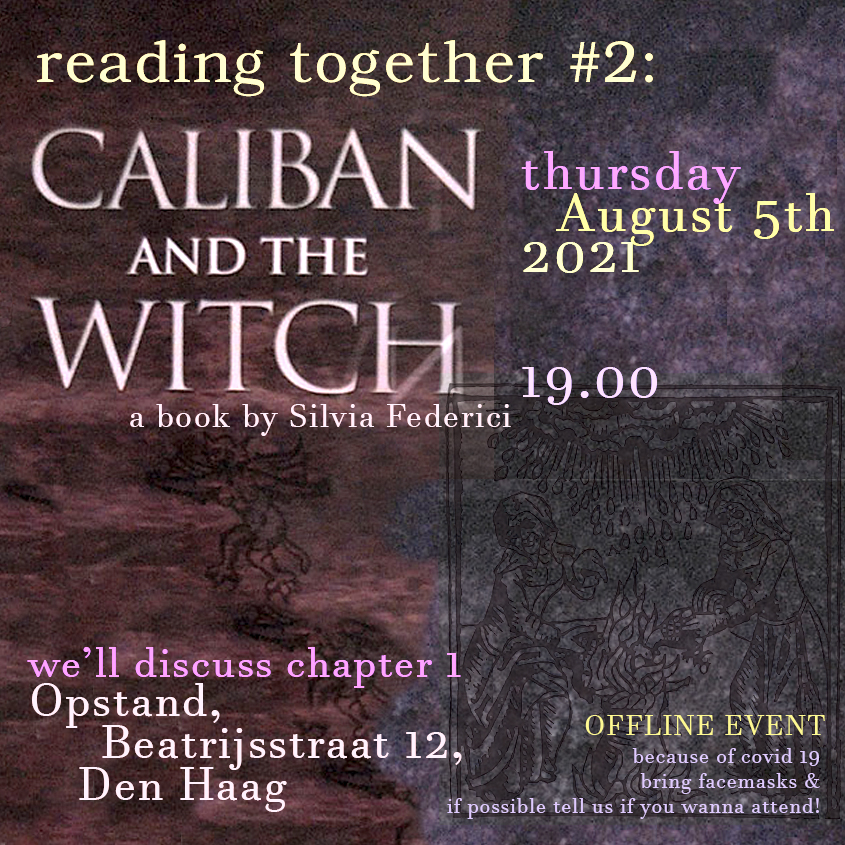 Second reading club meeting of 'Caliban and the Witch'! 
we discuss chapter 1!
if you dont or cant read it, feel free to still drop by and listen and engage!
When: August 5th, at 19:00
Where: at the Opstand (Beatrijsstraat 12, Den Haag).
There will be tea! cookies! And a cosy atmosphere!  We are looking forward to seeing you there!
You don't need to have any prior experience with the topic to join the reading group, just willingness to discuss and learn from each other. If you are planning to join us, please send us a message to let us know that you are coming, so that we can account for the number of people attending because of higher covid19 cases. Bring your facemask please, otherwise we have some here in case you forgot yours!
What is "Caliban and The Witch" about?
"Caliban and the Witch" is a marxist-feminist classic that explores the transition from feudalism to capitalism, a transition that, Federici argues, could only be achieved through the brutal subjugation of women. Moving from medieval peasant revolts through the European witch hunts to the colonisation of America and the transatlantic slave trade, Federici shows that capitalism did not come into existence naturally: it was built on violence. She brings to light that women were often at the forefront of resistance against the new capitalist order, both in Europe and in the colonies, and that capitalism's birth required the creation of a new kind of patriarchy.
Some of us have already read this book; it is mind blowing and extremely interesting, but also very dense and complex. That is why we want to read it together, to be able to understand it through conversations which each other, and perhaps also to critique it, to be able to formulate our own opinions. What is the connection between witch hunting and capitalism? Where do current patriarchal norms come from, and what purpose do they serve the capitalist powers? We will discuss these questions (and more) while reading this fascinating book.
Accessibility: The entrance of the Opstand is not wheelchair accessible, but there is a way when you go into the main entrance of the Samenscholing/Water en Brood. The door will be open. In doubt, just call for Max, they'll come and assist if needed. There is also a suitable toilet.
Next tramstation is Anna Bijnslaan. Parking in the evening is only handy for bikes!
[a text in light yellow and light violet on a dirty dark purple background with a dark woodcut image layerd on top, showing two presumable 'witches' around a cauldron. Text reads: reading together #2: Caliban and The Witch, a book by Silvia Federici, thursday August 5th 19.00. 'we'll discuss chapter 1'. Opstand, Beatrijstraat 12, Den Haag, OFFLINE EVENT: because of covid19 bring facemasks & if possible tell us if you wanna attend. ]