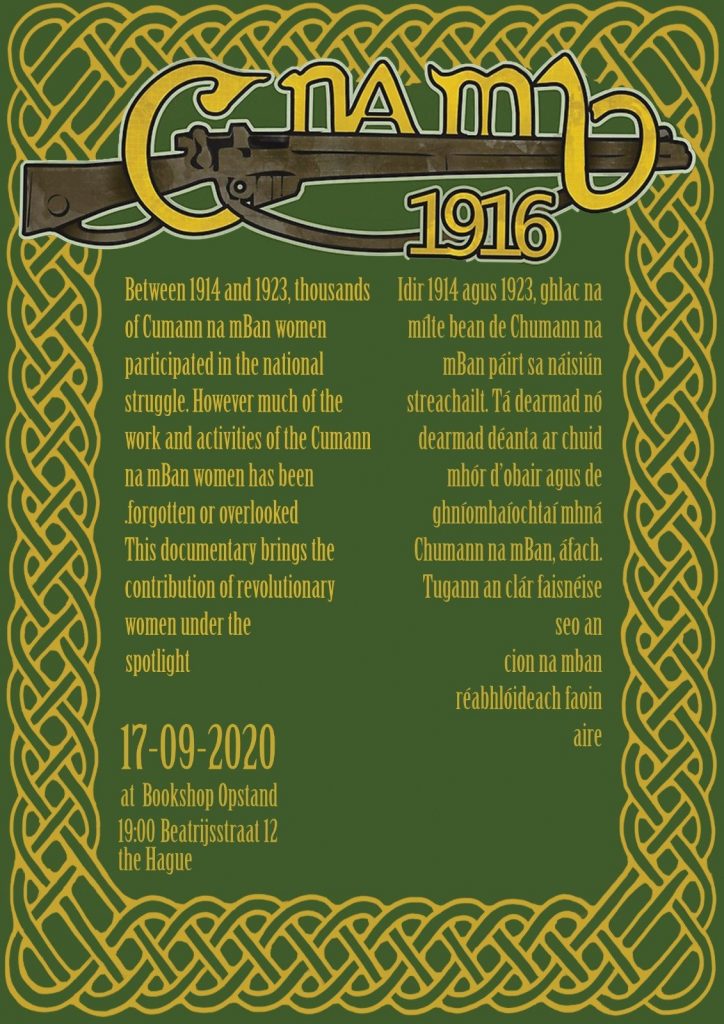 Tomorrow we'll continue our series on the troubles in Northern Ireland with a film about Cumann na mBan. See details in the image above.
Accessibility/Space:
The space is accessible via a front yard/door. If you use a wheelchair, please come in at Water& Brood and knock on the windows of the Opstand. We will come and open the door for you. We are sorry for the inconvenience but we are working on better solutions. One note for people with allergies: There are frequently cats on the couches in the Opstand (as they are the only people living in the Samenscholing).
The next tram station is Anna Bijnslaan, Tram 9 in direction of Scheveningen Noord.
If coming by train, the closest stations are Den Haag Hs and Den Haag Moerwijk (from there you can walk/roll)
The neighborhood is residential, therefore parking in the evenings is easy, but possible.
Covid19:
Movie Screenings take place (for now) in The Concert hall, where there is more space to keep distance.
Please wear/bring your own mask to the event. Enter via the Bookstore if possible, where hand sanitizer and face masks can be provided. Please wear a face mask during the event. If you have difficulties breathing with a face mask, we will find a solution for you to take part, please reach out via email or facebook or personally.
Your aren't obliged but we ask you to leave your name and your email/phone to be informed if any of the other participants has been infected with covid19. We will keep the notes safe and destroy them after 3 weeks.
**** General Disclaimer ****
We do not tolerate fascists, racism, sexism, and homophobia, transphobia and other discriminatory behavior. Check your privilege before taking up space!
*******