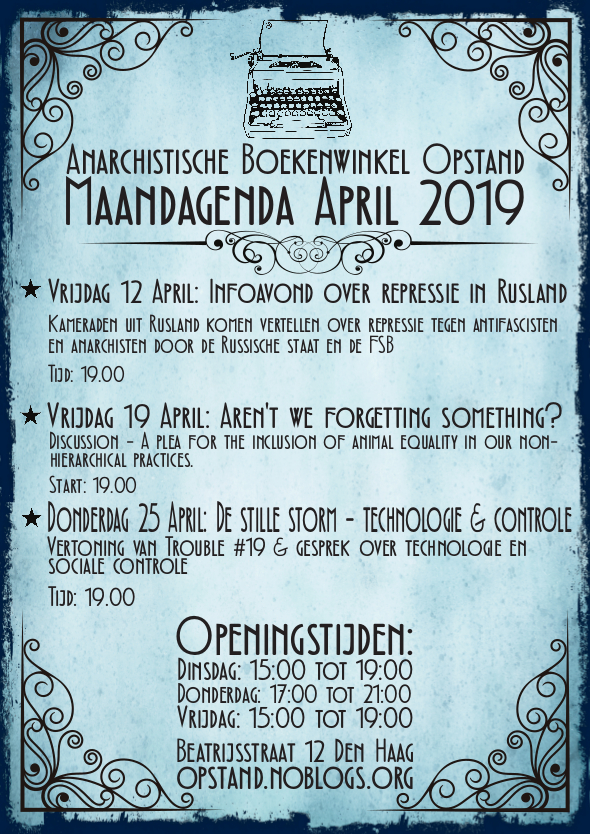 Friday April 12th
The NETWORK: Documentary movie screening and info night
In the run-up to the presidential elections and the FIFA World Cup, repression against antifascists and anarchists started in Russia. In autumn 2017 6 people were arrested in Penza; several of them had weapons and explosives planted on them. FSB officers then tortured the antifascists in the detention facility: they applied naked wires to the activists' various body parts and turned the electricity on, they beat them up and hung them upside down. While torturing them, the agents made the activists learn by heart the story the FSB needed: they were supposed to confess of having founded and belonging to a terrorist organization called "The Network". In late January 2018, three more antifascists were arrested in Saint Petersburg. They too were beaten up, tortured with electric current and forced to incriminate themselves by confirming they were members of the "Network".
On Friday April 12th anarchists from Russia will come to screen a documentary movie and give an info talk about the repression by the FSB and the "NETWORK case" against anarchists and antifascists in Russia. We will also be writing letters of solidarity to our imprisoned comrades!
Time: 19.00
Friday April 19th
Aren't we forgetting something? – A plea for the inclusion of animal equality in our non-hierarchical practices.
This evening is going to be an open discussion concerning how the human species treats other animals. It will be opened with a brief introduction followed by some question to actively dive into. The plan is to have an interactive space where people can discuss and challenge how they feel about the topic.
The talk will be in English.
Time: 19.00
Thursday April 29th
Quiet Storm: Screening of Trouble episode 19 & discussion on technology and social control.
Some call it a Fourth Industrial Revolution, in the past two decades the advances in technology – especially consumer technology – have been enormous. From bankcards to smart-phones and social media, technology has altered our way of life.
Technology, especially with the arrival of social media, has sometimes been hailed as a tool for the oppressed to speak out, and a way for people to organize uprisings, from Occupy to the Arab Spring. But in a world split between rich and poor, rulers and oppressed, we must view this technological development within its authoritarian, and often totalitarian, nature and origin.
Technology plays a key role in gentrification, wage-labour and the implementation of state laws. Never has the ruling class – through the state – had so much control over those it dominates, and never have we embraced and wilfully aided our domination and oppression as we do now.
After the screening of the 19th Trouble episode we will discuss the role of technology in its relation to social control, the state and capital. And, of course, what is to be done and how.
For further info about the subject we refer to these two texts:
At the beginning of the river. The struggle against the Google campus in Berlin. – P.10
https://avalanche.noblogs.org/files/2017/08/Avalanche-EN-11.pdf
When concrete deserts become intelligent. Smart control and the technification of the city. – P.8
https://avalanche.noblogs.org/files/2018/04/Avalanche-EN-13.pdf
Time: 19.00
Location: Anarchist Bookshop Opstand, Beatrijsstraat 12, Den Haag