[English below]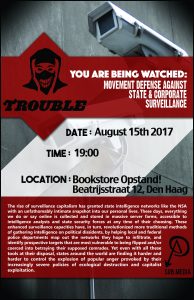 Op dinsdag 15 augustus zal Boekenwinkel Opstand de vijfde episode van Trouble vertonen. Trouble is een maandelijkse show van het anarchistische media collectief subMedia.tv uit de VS, waarin een diepgaande anarchistische analyse wordt geven over de huidige strijd, tactieken en dynamieken binnen de beweging. De vertoning vindt plaats in de boekenwinkel in de Samenscholing, Beatrijsstraat 12 om 19:00u.
You're being watched: Zelfverdediging tegen bedrijfs- en staatscontrole voor de sociale beweging.
De controle op onze levens door grote bedrijven en de staat is vandaag de dag op een historisch ongekend niveau. De groeiende verslaving aan sociale media, smartphones en andere vormen van digitale communicatie heeft een samenleving ingeluid die meer dan ooit met elkaar verbonden is, maar die ook bijna volledig afhankelijk is van de technologische infrastructuur van omvangrijke telecommunicatie, software en IT bedrijven.

De opkomst van het zogeheten Surveillance capitalism (https://en.wikipedia.org/wiki/Surveillance_capitalism) heeft ook inlichtingendiensten zoals de NSA de mogelijkheid gegeven om een zeer persoonlijke blik te nemen in onze privelevens. Tegenwoordig wordt alles wat wij online doen of zeggen verzameld en opgeslagen in enorme datacenters, waar data-analysten van inlichtingen- en veiligheidsdiensten ten alle tijden toegang tot hebben.
Deze uitgebreidde controlemogelijkheden hebben op hun beurt traditionele methoden van het vergaren van inlichtingen over politieke dissidenten revolutionair veranderd. Deze technologische veranderingen helpen lokale en landelijke politiediensten bij het in kaart te brengen van de netwerken die zij willen infiltreren, en bij het dentificeren van individuen als targets die het meest kwetsbaar om samenwerking met de politie af te dwingen, of om hun veronderstelde kameraden te verraden.
Maar zelf met al deze instrumenten tot hun beschikking hebben staten over de hele wereld het steeds moeilijker om de explosies van maatschappelijke woede, ontstaan door steeds vergaandere beleidsmaatregelen van ecologische vernietiging en kapitalistische exploitatie, te controleren. In deze nieuwe episode van Trouble interviewt het anarchistische mediacollectief sub.Media een aantal personen over hun ervaringen met infiltranten en informanten, en wordt er gekeken naar enkele manieren waarop wij bewegingen kunnen bouwen die weerbaarder zijn tegen controle door de staat en het bedrijfsleven.
Elke maand wordt de nieuwe aflevering van Trouble in Opstand vertoond. Houdt voor date onze website en facebook in de gaten!
ENGLISH:
Tuesday the 15th of August, Bookstore Opstand will host a screening of the 5th episode of Trouble. Trouble is a monthly show by the US-based anarchist media collective subMedia.tv offering an in-depth anarchist analysis of current struggles, tactics and movement dynamics. The screening will be held at the bookstore at the Samenscholing, Beatrijsstraat 12 at 19:00.
You Are Being Watched: Movement Defense Against State & Corporate Surveillance
Ours is an age of historically unprecedented state and corporate surveillance.
Our society's growing addiction to social media, smart phones and other forms of digital communication has ushered in a more interconnected society, but one that is almost entirely dependent on the technological infrastructure of massive telecommunication, software and IT corporations.
The rise of surveillance capitalism has also granted state intelligence networks like the NSA with an unfathomably intimate snapshot into our personal lives. These days, everything we do or say online is collected and stored in massive server farms, accessible to intelligence analysts and state security forces at any time of their choosing.
These enhanced surveillance capacities have, in turn, revolutionized more traditional methods of gathering intelligence on political dissidents, by helping local and federal police departments map out the networks they hope to infiltrate, and identify prospective targets that are most vulnerable to being flipped and/or coerced into betraying their supposed comrades.
Yet even with all these tools at their disposal, states around the world are finding it harder and harder to control the explosion of popular anger provoked by their increasingly severe policies of ecological destruction and capitalist exploitation. In this month's episode of Trouble, anarchist media collective sub.Media interviews a number of individuals about their experiences of dealing with undercovers and informants, and looks at some of the ways that we can build movements that are more resilient to state and corporate surveillance.