nu, eindelijk weer een agenda!!! (edit 06.12.2021)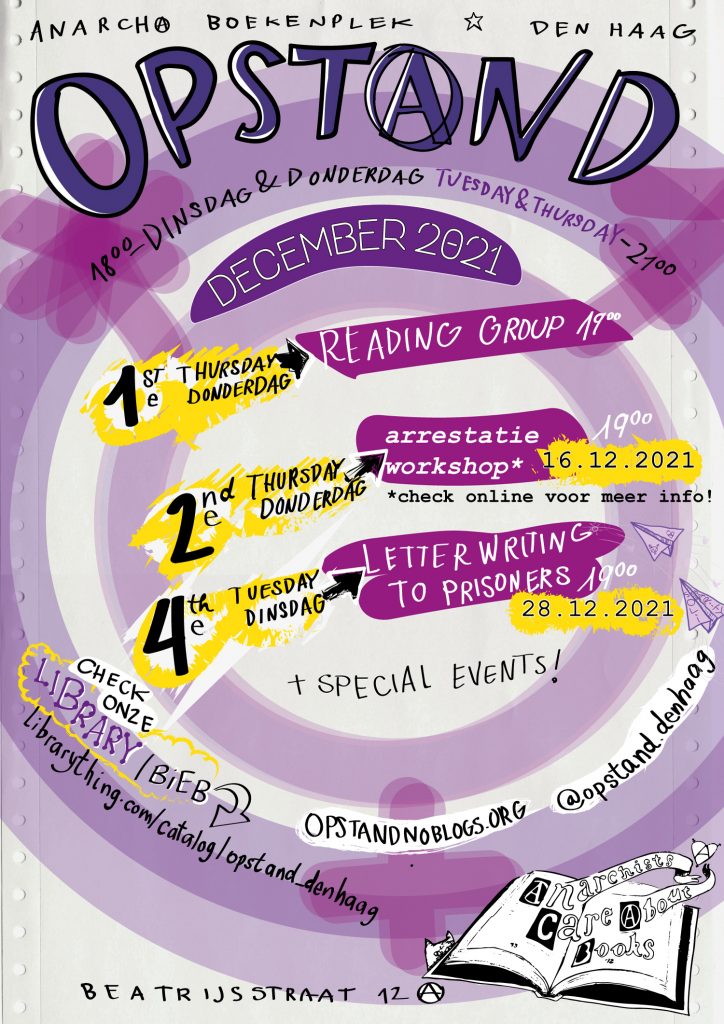 Maart 2020

[Alt Text:
On the maandagenda following information is shortly presented:
01.03. Xwebun: Women's resistance in Noth Kurdistan. Infoevening with Benefitdinner and MovieScreening. Begin is at 5pm. Hosted by Defend Rojava.
05.03. We will Screen Vrouwen in Verzet and talk about it. Start is at 7pm.
14.03. Haags Mug will have an English talk about 'A 'carbon neutral' economy – The (De)Politization of the Climate Debate'. It starts at 19.00.
At the 29th of March we will have an Eetcafe, called Hannie Eet Wat De Pot Schaft. It will be hosted by the Opstand, but taking place in the Water en Brood!
Food is ready at 6pm! All the Donations will be for De Samenscholing.
Design of the poster looks like the following: It is a white background, portrait format image with decorative ornaments in black in each corner. The font is in black, but some words are red and green.The main head is a symbol of a typwriter with an anarchist A on the paper, followed by 'Anarchistische Boekenwinkel Opstand Maart 2020' .
Hannie Schaft's face is in a abtract balck and white sketch on the right bottom side. ]
*************************************************************************************************
Februari 2020: elke donderdag begint het evenement om 19.00 uur, film begint om 20.00!